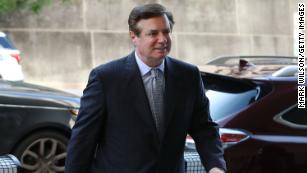 Former Trump campaign chairman Paul Manafort will await his trial for foreign lobbying charges from jail.
Two weeks after special counsel Robert Mueller's prosecutors dropped new accusations of witness tampering on him, US District Judge Amy Berman Jackson on Friday revoked Manafort's bail, which had allowed him to live in his Alexandria, Virginia, apartment under house arrest.
"The harm in this case is harm to the administration of justice and harm to the integrity of the court's system," Berman Jackson told Manafort in court.
The judge emphasized to Manafort how she could not make enough rulings to keep him from speaking improperly with witnesses, after he had used multiple text messaging apps and called a potential witness on an Italian cellphone.
"This is not middle school. I can't take his cellphone," she said of Manafort. "I thought about this long and hard, Mr. Manafort. I have no appetite for this."
Manafort also entered a not guilty plea to two additional charges levied against him last week, of witness tampering and conspiracy to obstruct justice. In total, he faces seven criminal charges in DC federal court.
Three US marshals led Manafort out of the packed courtroom into the prisoner holding area immediately after the judge's ruling. He was not placed in handcuffs. Before he disappeared through the door, he turned toward his wife and supporters and gave a stilted wave.
Minutes later, a marshal returned to give Manafort's wife, Kathleen, still standing in the courtroom's front row, his wallet, belt and the burgundy tie he wore Friday.
Court marshals held Manafort in the bowels of the courthouse for several hours following the hearing as they considered how to keep him protected from other inmates behind bars. He arrived about 8 p.m. at the Northern Neck Regional Jail in Warsaw, Virginia, 90 miles south of Washington.
In a tweet, President Donald Trump said the decision to revoke Manafort's bail was "tough," although he referred to it as a "sentence."
"Wow, what a tough sentence for Paul Manafort, who has represented Ronald Reagan, Bob Dole and many other top political people and campaigns. Didn't know Manafort was the head of the Mob. What about Comey and Crooked Hillary and all of the others? Very unfair!"
CNN