Pakistan ex-PM Nawaz Sharif given 10-year jail term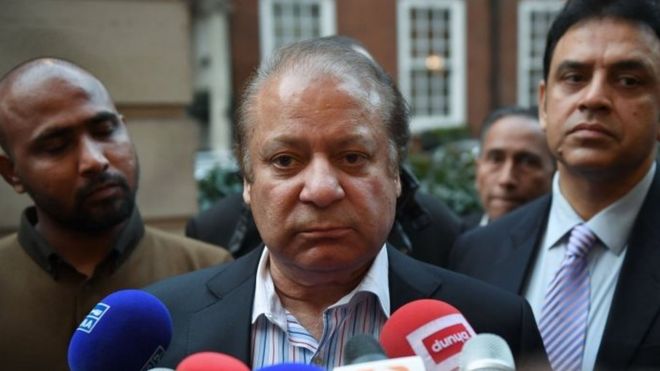 A Pakistani court has sentenced former Prime Minister Nawaz Sharif to 10 years in prison on corruption charges related to four luxury London flats.
The National Accountability Bureau (NAB) court handed down the verdict after a series of delays.
His daughter, Maryam Nawaz Sharif, received a seven-year sentence, while his son-in-law, Safdar Awan, was given a one-year sentence.
Nawaz Sharif has said the charges are politically motivated.
Judge Mohammad Bashir ordered Sharif to serve 10 years for owning assets beyond income and one year for not co-operating with the NAB. He will serve his sentences concurrently.
Daughter Maryam received seven years for abetting a crime and one year for not co-operating - again to run concurrently - while Safdar Awan's sentence is for not co-operating.
Sharif and Maryam also received fines of £8m ($10.6m) and £2m respectively.
The case, known as the Avenfield Reference, relates to a number of properties in the UK capital.
The Panama Papers leak in 2015
revealed several of Sharif's children had links to offshore companies, which were allegedly used to channel funds and buy foreign assets - including luxury flats in Avenfield House, on London's Park Lane.
His family, however, insist they legitimately acquired the four properties.
As part of the ruling, the court ordered they be confiscated for the federal government.
Members of the Pakistani media set up outside the Avenfield House properties, where the family reportedly watched the verdict: