World Cup 2018: Female reporter groped and kissed on air
A female reporter groped live on air at the World Cup has spoken out about harassment by sports fans.
Colombian correspondent Julieth Gonzalez Theran was working for DW Espanol in Moscow when a man grabbed her breast and kissed her cheek.
She continued her report without interruption but has since addressed the incident online.
"We do not deserve this treatment," Gonzalez Theran said. "We are equally valuable and professional."
She told her employer, Deutsche Welle, she had been on the scene for two hours preparing for the broadcast.
"When we went live, this fan took advantage of the situation," she said. "But afterwards, when I checked to see if he was still there, he was gone."
The incident happened last week in the city of Saransk ahead of the Russia-Saudi Arabia game. DW posted posted the footage on social media, calling it an "attack" and "blatant harassment".
Many online commentators, however, downplayed the incident. One labelled the criticism as "feminist hysteria", and others suggested the kiss should be seen as a "welcome" or a "compliment".
Gonzalez Theran continued to speak out about her treatment on Twitter, retweeting messages of support from her colleagues.
"This is not funny," DW presenter Cristina Cubas tweeted. "It's not a kiss. It's a non-consenting attack."
"For me it is an isolated incident," Gonzalez Theran said. "There are always fans that compliment you and behave respectfully. This one went too far."
Harassment of female reporters is not uncommon in sports reporting.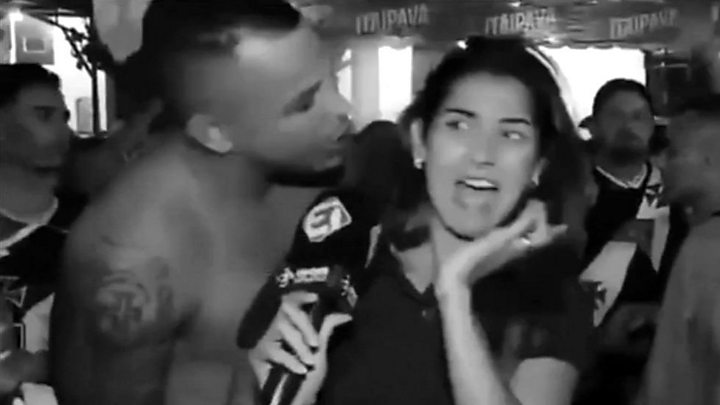 "If I hadn't been live on air, I would have punched him," the reporter, Maly Thomas, later said.
Other women working at the World Cup have also been facing criticism or abuse off-camera- and particularly online.
German football commentator Claudia Neumann has received extensive criticism on social media for her work, which her employer and colleagues have dismissed as sexist.