Homes evacuated as moorland fire declared 'major incident'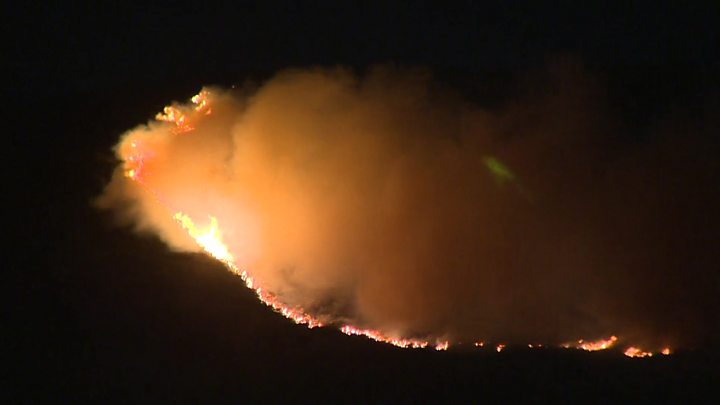 More than 30 homes have been evacuated as a huge moorland fire continues to spread in Greater Manchester.
The blaze on Saddleworth Moor has been declared a "major incident" and the Army is on standby to step in.
The fire began on Sunday night, reignited on Monday during the hot weather and then spread throughout Tuesday, fanned by evening winds.
Thirty-four homes in Carrbrook, near Stalybridge, were evacuated but there are no reported injuries.
Anthony Leach, who lives there, said the smell of smoke is "in every room".
"It's like you could almost smoke mackerel in there," he added.
Great Manchester Fire and Recue Service (GMFRS) confirmed the blaze was spreading, with smoke and flames seen for miles.
The force has warned people to keep their windows and doors shut, despite the warm weather.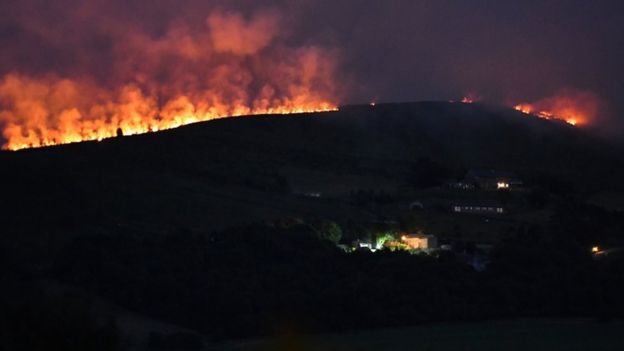 The blaze, on tinder-dry hills, has been raging for days despite efforts to halt it.
Firefighter Ricky Case, who has been out on the hills, said: "It's just the sheer vastness of it. It's one of the biggest ones I've been on in a long time. The logistics of it all, trying to get water to the locations where we need it."
GMFRS group manager for Tameside, Phil Nelson, added: "Crews are still tackling this difficult fire and are working hard to contain the blaze and prevent further fire spread.
"Firefighters are faced with very difficult circumstances, intense heat and are working on challenging terrain.
"Our main considerations are for crew welfare. It is physically draining working at this incident and it is vital that our firefighters have regular breaks and that relief crews are available to take over."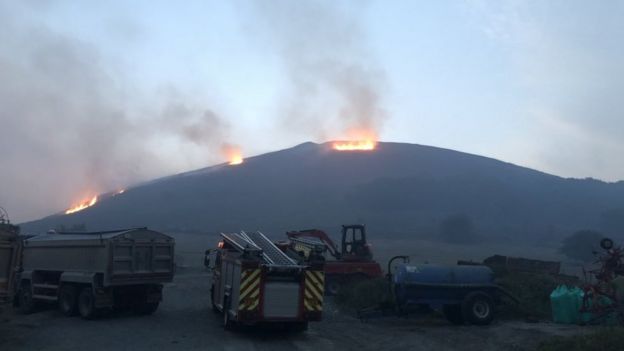 On Tuesday night, GMP said more than 30 homes in Carr Rise, Carr Lane and Calico Crescent were being evacuated due to the proximity of the flames.
Reverend Chris Finney has opened his church, St James' in Millbrook, to anyone who needs it.
"I'm about a mile away from Calico Crescent. I've lived in this area all my life and I think I can say that within my memory - and I'm in my 60s - I've not seen fires on the moors to the extent that we're looking at them at the moment," he said.
Tameside councillor Clive Patrick added: "It's terrifying. I've never seen it as bad as this. I've been here now 30 years and this is the worst I've seen."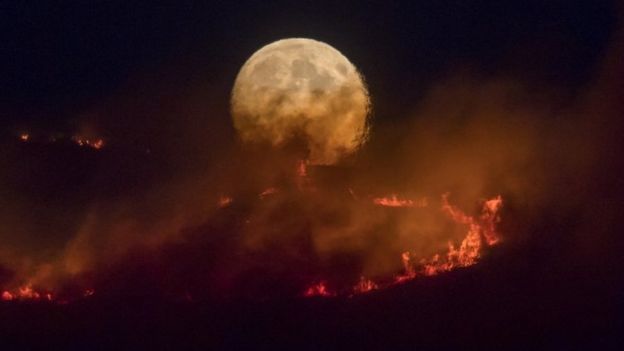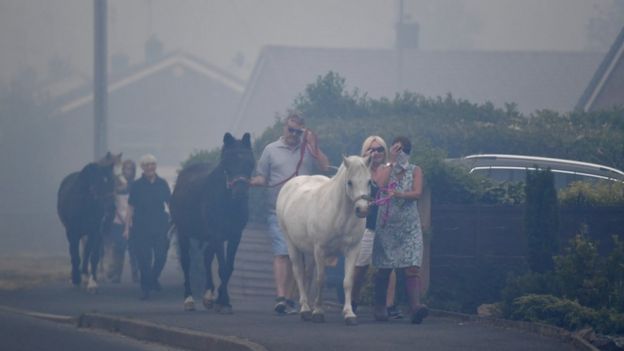 The Mayor of Greater Manchester, Andy Burnham, thanked fire crews after firefighters from across Greater Manchester, Lancashire and Derbyshire spent much of Tuesday tackling the fire.
People as far as 20 miles away reported being able to smell the smoke on Tuesday evening, although GMFRS stressed the smoke was not toxic.
Huge amounts of smoke drifted westwards, with large parts of Greater Manchester experiencing poor visibility.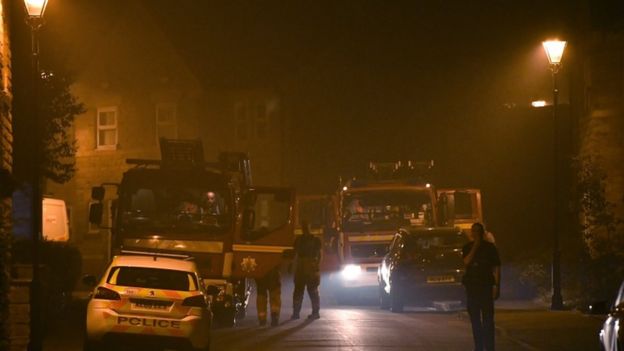 Public Health England offered advice to those affected by smoke. It tweeted: "Smoke is an irritant and can make people's eyes and throat sore. Wash your face with soap and water and keep hydrated by drinking water."
GMP has confirmed some schools in the Tameside area will be shut on Wednesday, with two already confirmed closed.
Anyone who requires a safe place to stay should contact Tameside Council, the force said.